Can a Knicks/Suns/Mets fan really say anything to me? Yes the White Sox beat the Astros in the 2005 World Series and who cares exactly, right? A wise man named Ari Gold on Entourage once said "There are no asteriks in this life, only scoreboards!" Meaning the Rockets 2 championships of the 1990's aren't taken for granted just because Michael Jordan wasn't around. They still have two banners! Now the Suns...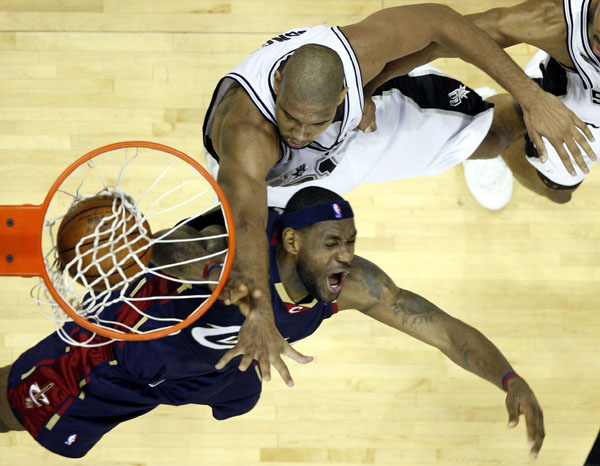 They love to blame the Spurs for everything bad that's ever happened to them. I've heard it all before. The Amare & Boris suspensions when they jumped off the bench in the 2007 Western Conference Semifinals after Robert Horry launched Steve Nash into the scorer's table. Yeah yeah, they would've won the championship if not for that. Well...they didn't. Who won it that year in fact? The Spurs did. In the most boring NBA Finals ever. Yes Lebron you were there.
Don't forget about the 1993 Suns either. They had the best record in the NBA and were arguably better than any D'an-phony led Suns squad of the new millenium. But they fell to...the Bulls in the finals. Tough luck.
How do I know about these feelings? How do I know all this is true about Phoenix? I used to be a Suns fan myself! I used to blame everything on the Spurs and nothing on the Suns defense, or lack thereof rather. But I realized I needed to focus on the Bulls and just in time too: Every Suns fan should have been absolutely embarrassed when the Arizona Cardinals made the super bowl before any of the 21st century Suns teams made the finals. Ultimate kick in the chest, huh? So the Suns are still sporting a cool zero championships. Ouch.
The Knicks? Sigh. Well...
The bright side: Two championships!
Down side: Way back in the early 1970's.
Bright side: They play in New York...
Down side: Absolutely everything else about them.
Stephon Marbury. Isaiah Thomas. Nate Robinson. Latrell Spreewell. And that's just this decade! Back in the 90's, well...all I have to show is
this
; my favorite dunk of all time.
The Knicks have to be the stupidest organization in the Atlantic division even though the Nets are giving them some competition...so are the Raptors. This is actually a pretty dumb division. Anyway, they plan for Lebron even though it might not even happen. I remember the Suns were expecting Kobe to come to Phoenix via free agency earlier this decade. That didn't happen...obviously. If the Knicks were anywhere near smart, they would BUILD ON WHAT THEY HAVE. David Lee, Wilson Chandler; these are good pieces! Keep em. But instead they wanna give David Lee a one-year contract and I gurantee you he will not be back next year. Sorry Knicks fans.